Our Mentor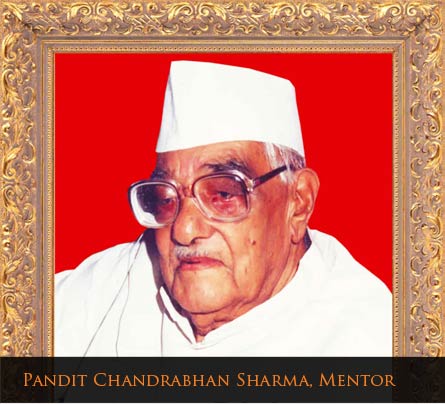 This patriot, a noble son of India was born on 2-6-1903 at village Samod, Jaipur , Rajasthan in pious Brahmin family. Matriculated from Maharaja School, Jaipur in 1918 and came to Mumbai for higher education and enrolled with Daver's College of Commerce, Mumbai V.T for Accountancy Course.
He took part into India's Independence Struggle and joined Non- co-operation movement started by Mahatma Gandhi,urged people to boycott British educational system and to give up Govt. jobs and titles and honors.
He was Influenced by philosophy of M.K. Gandhi and forsake his college education, left his family and started living at Gandhiji's 'Sadakat Ashram' at Mumbai.During his stay at Sadakat Ashram he met great personalities and prominent voices of Indian Independence movement like Sarojini Naidu, Lala Lajpat Rai, Motilal Nehru, R.C. Das etc. which inspired him to devote himself for Independence Struggle of India.
Impressed by his talent and hard work at Sadakat Ashram - Mumbai, he was chosen by Gandhi to spread Khadi Movement in Rajasthan. He Worked relentlessly to popularize charka (Spinning wheel) and Khadi, the symbol of revolution and Indian identity. His effort fetched great success which inspired him to embrace Gandhian ideal of selfless work. This culminated into his long association with Gandhiji, volume of reformatory social work; service for network of Ahsram's set up by Gandhiji and contribution to Indian National Congress.
He Participated in all major Independence movements like Dandi March, Non co- operation, Quit India Movement. He was the first person from Rajasthan to participate in Dandi salt movement – Arrested & Jailed for 2 yrs at Ajmer Jail. Panditji's contribution was of great significance. He worked for eradication of untouchability, upliftment of Harijan's by opening schools, drinking water facility – He was the Chief of Rajasthan Harijan Sevak Sengha.
During Independence Movement, he was arrested & jailed several times. Many times he went underground to continue his mission. He was associated and worked for Forward Block, campaigned for Netaji Subhash Chandra Bose during 1939 congress election.
An ardent Journalist & Writer , he published many articles during the Independence Struggle in renowned newspapers and magazines.