Trustee's Message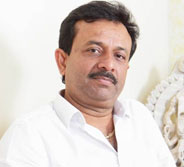 As I stand before the educational institute, which was the dream of my father, Shri.Gopal Sharma, I feel a sense of satisfaction and pride. Today, he is no more, but his ideals and his visions are taking shape before me. For I know, this was what he wanted.
Starting an institution was on his mind for a long time. His belief was that quality education should be made available to all. Education is the main tool that changes the thinking of a man. He also believed in the fact that better education means better citizen and a better country. Smt. Durgadevi Sharma Charitable Trust was established with this aim. It provides support to the needy students.
To achieve the desire, to nurture the dreams and to connect them to reality, the trust will impart and give special coaching in vocational and technical subjects. To conclude, it is my promise that the institution will prove to be an ideal place to provide all possible opportunities for the best education and development of an all round personality to meet the challenges of a competitive future.
On behalf of the management, i take this opportunity to thank each and everyone who has helped in converting my father's dream into reality.
Prashant G. Sharma
- Managing Trustee